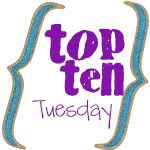 Ten things I did not know ten years ago:
1. That Craig snored when he was asleep.
2. That the first year of marriage would be so easy (it's supposed to be hard, right? Ours wasn't. Most of the credit for that (I'm going to say
goes to Craig
but you know it goes to God, right? That goes without saying.) goes to Craig for being so calm and even-keeled.
3. That the nicer brand undershirts fit better than the generic brand undershirts.
4. That we'd move twice and change jobs 4 times.
5. That Craig didn't like mustard.
6. That getting a king-sized bed so everyone could fit comfortably would be
such
a good idea.
7. That I'd trade
Martha Stewart
for
Martha Speaks
and not mind at all.
8. That a
book
Craig chose and read first would be such a good read.
9. That Craig would
still
be talking about getting a Jeep.
10. That I'd love him more now that I did 10 years ago.
For more top 10 lists, head over to
ohamanda
.