This past weekend was really, really warm for New England. It's the first time since I can remember that I didn't need a sweater on Easter (but I was prepared, anyway; I no longer get optimistic that I can get a cute new summer dress and wear it this early in the year. I even got a
sweet
white cable-knit cardigan
for Kate from Gymboree [on sale, of course] several
months
ago in anticipation of her needing it; it still has the tags on it. It was that warm).
Since it was so warm, we headed up to my in-laws' place on Mousam Lake. As I sat there soaking up the sun (with SPF 50 on), listening to my father-in-law and Craig discuss something completely random like how many times they moved the pier last year, I thought about how we have the same conversations over and over when we're at the camp. So that's the theme of this week's list: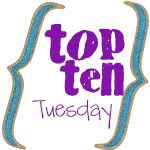 Top Ten things we talk about
all the time
in Maine:
1. The water being high/low (the next 2 are closely related to and caused by the water height, but slightly different)
2. How large/small the beach is
3. How fast the water is flowing out of the dam
4. Who is coming and when they are expected to arrive
5. When we are leaving for Ted's
6. How much gas is in the boat
7. Who on the lake has a new boat/motor/pier/camp
8. Who is going downtown and can they pick up (insert needed item here, typically milk)
9. What time Ridley Farm is open
10. What time the Red Sox play
And for more top-tens of the week, head over to
oh amanda
.