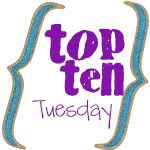 1.
Dyson
(or at least a better) vacuum
2.
bunk bed
for Sam's room
3. new
camera
4. new
sandals
5. a
doll house
for Kate
6. a new Bible for carrying to church (haven't found the exact one I want yet)
7. a kayak
8. adult bikes
9. treadmill or elliptical
10. a tummy tuck (the crunches are
not
working fast enough)
Next week, the top ten verses regarding contentment and thankfulness.
Kidding. Despite
wanting
all of these things, I know we are incredibly, abundantly, above-what-we-could-ask-or-think blessed. Jesus' words in Matthew 6:
do not worry. Your Father cares for the birds and aren't you so much more valuable than them?
(I know what you're thinking. Move that Bible to the top of the list and stop giving us paraphrases.) My life is not going to magically get better if I have a "great" vacuum, an expensive camera, or my 17-yr-old waistline back. My life is great right now and I am thankful for that.
Now. Head over to
ohamanda
and see what else has been top-tenned this week.