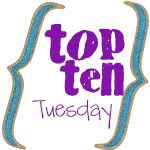 Ten of my top favorite books:
1.
Peace Like a River, Leif Enger:
I was not expecting this to be so
exquisite.
I loved it; it caught me off guard, which made it that much more memorable.
2.
A Separate Peace, John Knowles:
I have always loved this book.
3.
Beloved:
my first
Toni Morrison
and it changed my fiction landscape.
4.
A Prayer for Owen Meany, John Irving:
Another one that I didn't know what I was getting into and could hardly stop reading or breath I loved it so much. There was a perfectly
awful
movie adaptation that didn't even come
close
to doing this book justice.
5.
Cry, the Beloved Country, Alan Paton:
The hills were beautiful beyond all singing of them. Someday you will speak Zulu in the dark.
OK, I did the quotes from memory so they may not be exact but again, exquisite. It fueled my thirst for great writing.
6.
The Woman Warrior, Maxine Hong Kingston
.
[My mother] said I would grow up a wife and a slave, but she taught me the song of the warrior woman
.
7.
Operating Instructions, Anne Lamott.
I probably will lose my fundy cred for reading this, but c'mon. She puts her prayer requests (I don't think she calls them that; things she wants to ask God or wants God to do) in a box and then
waits for operating instructions.
How many times could I benefit from giving it to God and then carrying on until He shows me what to do next? And the "chosen and loved" part. Loved it.
8.
The Girls' Guide to Hunting and Fishing, Melissa Bank.
I remember picking up this book in a bookstore and
this poem
was on the first page. Which of course is one of the best poems ever and it's a villanelle. So, the book had to be fantastic for the author to have chosen that as the introduction/prologue (if it was on a shelf I'd just go get it and see if it's labeled in any way but all my books are [sadly] in boxes in the basement or Kate's room and my bookshelves repurposed for toys or crafts. Yes. This is a sadness in my life, that these books are not right here for me to look and and pick up at will. But they will. Someday. Be out of those boxes.) and it was. I would say, also, that this was my introduction to chick lit (not cheesy, throwaway, ridiculous stories with titles like "Beverly Hills Babes" or "Getting Married" but the idea of chick lit as smart, clever, interesting women navigating life with intellect and humor; that is what
The Girls' Guide
gave me. Plus I was single and had
many
failed relationships and had tried
The Rules
, so I felt close to the protagonist.
9.
Gilead, Marilynne Robinson:
This was a Pulitzer Prize winner and recommended by Craig's cousin, either of which
alone
would recommend a book; this one is unbelievably amazing. As was
Home
, and also
Housekeeping
. But
Gilead
started me on the path to those.
10.
The Remains of the Day, Kazuo Ishiguro
. Quietly moving & exquisite. Amazing. I couldn't find the movie on demand or . . . did I look anywhere else? I would like to see the movie with Anthony Hopkins. I picked it up at a used bookstore (so fun, those places) because someone had put it on their "top 15 books" list on facebook. I probably wouldn't have selected it otherwise, but am so glad I did.
So, I put a
lot
of effort into this post (on Sunday) and then realized I forgot one of my favorite books of all time:
Special Topics in Calamity Physics
. It was unbeliveable. The
one
person I found who had also read it claimed she didn't remember it. I almost keeled over, I was so anxious to discuss it with someone. Great story, great writing, great voice of the protagonist, great
twist
.
Now. Head over to ohamanda and check out other top tens of the week.