Last night I read some of this blog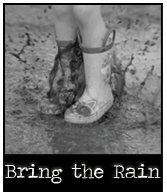 and was literally sobbing and unable to catch my breath at some points. How amazing, God's goodness and grace through such a trial. Her writing is so good, too. If you haven't read it, cancel your appointments, get a sitter, do what it takes. Start from the beginning.
So my next (or should I say, concurrent) thought was, what am I doing trying to have a blog? I like to think I'd be a good writer if I tried. That I have something moderately entertaining to say. That sticking to writing about feeding my children will keep me from rambling off into idiotic rants that people will then forward to their therapists to discuss why they should not spend too much time with me (alright, so that was something I did with a post of my brother's once but it really did cross the line into creepy and I wanted an
objective
[read,
professionally trained
] opinion to back up our feeling that maybe we shouldn't have our children around him). Or that I could keep up with current backgrounds for this page
if I tried
.
Where was I going with this? I started this this morning with (sort of) clear thoughts and now it's not so clear.
Maybe my New Year's Resolution will be to put more into the blog. Maybe not; typically I don't make resolutions so that I can't fail when I don't keep them.
Off to read more Bring the Rain.